Merkava Mark IV (Israel)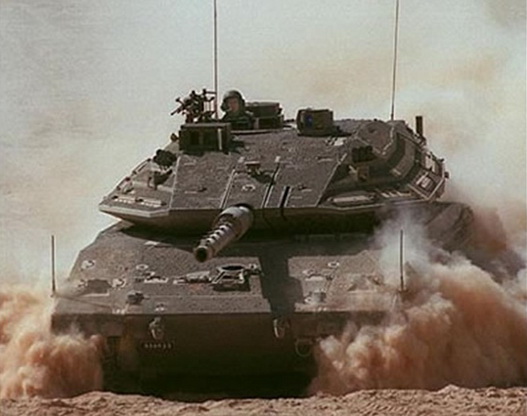 The Merkava is the main battle tank of the Israel Defense Forces. Since the early 1980s, four main versions have been deployed. The "Merkava" name was derived from the IDF's development program name.
It is optimized for crew survival and rapid repair of battle damage. Through the use of spaced-armor techniques and quick-replacement modular designs, the design team was able to incorporate composite armor, a derivative of rolled homogeneous armor (RHA) and Chobham armour. Additionally, the space between the inner and outer hulls is filled with diesel fuel°™an economical storage method and a means of defeating HEAT rounds.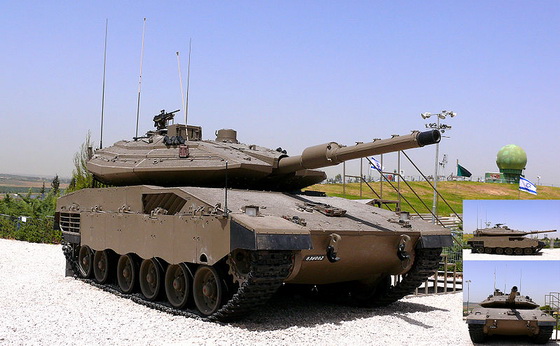 Following the model of contemporary self-propelled howitzers, the turret assembly is located nearer the rear than in most main battle tanks. This gives the crew additional protection against a frontal attack by putting the engine between them and the attack. This arrangement also creates more space in the rear of the tank that allows increased storage capacity, as well as a rear entrance to the main crew compartment allowing easy access even under enemy fire. This allows the tank to be used as a platform for medical disembarkation, a forward command and control station, and an armored personnel carrier. The rear entrance's clamshell-style doors provide overhead protection when off- and on-loading cargo and personnel.
It was reportedly decided shortly before the beginning of the 2006 Lebanon War that the Merkava line would be discontinued within four years. However, on 7 November 2006, Haaretz reported that an Israeli General Staff assessment had ruled of the Merkava Mark IV that "if properly deployed, the tank can provide its crew with better protection than in the past," and deferred the decision on discontinuing the line.